Volume 2, Part 1: Extant Commissioned Ships
HMCS Winnipeg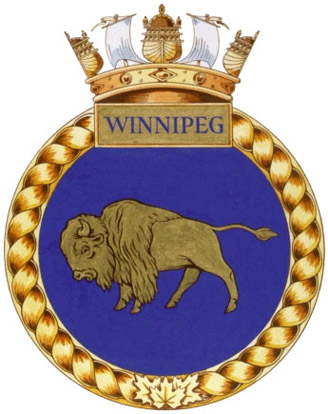 The following document is available for downloading or viewing:
For more information on accessing this file, please visit our help page.
---
BADGE
Description
Azure a bison passant Or.
Significance
The badge design is derived from the civic devices of the Winnipeg, a crest above a shield. The shield displays three wheat sheaves, over which is a "chief showing a locomotive engine." Above the shield, or crest, is a bison.
In the ship's badge, the colours gold and blue have been used, and in support of this, one may refer to those used by the Winnipeg Football Club, the "Blue Bombers" whose members wear these colours. They are good fighting colours on the "Gridiron" so therefore should appeal to Winnipegers on the high seas.
MOTTO
None
COLOURS
Azure Blue and Gold
BATTLE HONOURS
The Second World War
ATLANTIC, 1943-45.
LINEAGE
First of Name
Minesweeper, Algerine Class.
Commissioned 29 July 1943.1
Paid off 11 January 1946.2
Second of Name
Frigate, Halifax Class.
Commissioned 23 June 1995.3
OPERATIONAL HISTORY
The Second World War
Winnipeg served on escort duties off the coast of Nova Scotia and in the North Atlantic with the 'Western Escort Force' and the 'Halifax Force'.4
---
1. SMC/FDN, HMCS Winnipeg, 300500 July 1943
2. SMC/FDN, HMCS Winnipeg, 151847 January 1946
3. Annual Historical Report/Rapport historique annuel 1994/95 - HMCS/NCSM Winnipeg, UIC 1679, 31 March/mars 1996, file/dossier 1326-1 (NavO), AHR/RHA 1326-1679
1. Signal, CINCCNA to NOIC SYDNEY, 221509Z July 1945, Document Collection 81/520, 8000 HMCSWinnipeg; SMC/FDN,HMCS Winnipeg, 271924 September 1943
Footnotes notice: This content is provided as it appears in the originating document (see PDF link above) and cannot be altered. Some notes reference annotation in only one of the official languages, and therefore numbers may not match in the content you are viewing. For clarification, we invite you to check the corresponding footnote in the French page.