Volume 2, Part 1: Extant Commissioned Ships
HMCS Yellowknife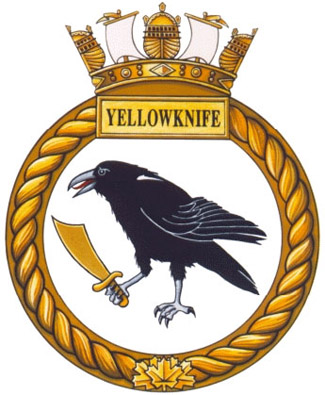 The following document is available for downloading or viewing:
For more information on accessing this file, please visit our help page.
---
BADGE
Description
Argent a raven Sable grasping in the dexter talon a miner's powder knife Or.
Significance
Ravens are familiar ornithological residents of Yellowknife, while the miner's powder knife in the raven's right talon symbolizes gold mining, one of the major industries in the area, as well as the ship's defensive capability.
MOTTO
IN ARDUA NITOR (I endeavour in difficulties)
COLOURS
Black and Yellow
BATTLE HONOURS
None
LINEAGE
First of Name
Coastal Defence Vessel, Kingston Class.
Commissioned 18 April 1998.1
---
1. Annual Historical Report/Rapport historique annuel - HMCS/NCSM Yellowknife, UIC 3357, 24 March/mars 1999, file/dossier 1325-1 (NavO), AHR/RHA 1326-3357
Footnotes notice: This content is provided as it appears in the originating document (see PDF link above) and cannot be altered. Some notes reference annotation in only one of the official languages, and therefore numbers may not match in the content you are viewing. For clarification, we invite you to check the corresponding footnote in the French page.