Volume 3, Part 1: Armour, Artillery and Field Engineer Regiments - ARMOUR REGIMENTS
ROYAL CANADIAN ARMOURED CORPS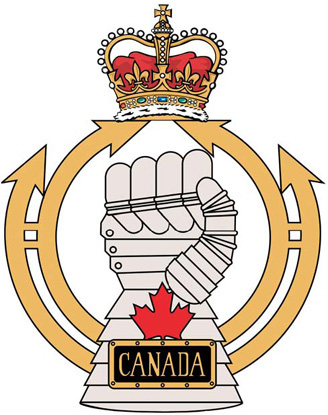 The following document is available for downloading or viewing:
For more information on accessing this file, please visit our help page.
---
BADGE
Description
A dexter hand in armour Argent charged with a maple leaf Gules above a billet fesswise Sable edged and inscribed CANADA in letters Or, the whole set on a double-headed arrows forming two concentric circles Or and ensigned by the Royal Crown proper.
Symbolism
The concentric circles symbolize the pincer operations of armoured forces. The mailed gauntlet symbolizes armour.
MOTTO
None
MARCH
My Boy Willie
ALLIANCE
British Army
Royal Armoured Corps
LINEAGE
The Armour Branch originated on 13 August 1940 when the 'Canadian Armoured Corps' of the Canadian Active Service Force was authorized to be formed.1 It was redesignated: 'Royal Canadian Armoured Corps' on 2 August 1945;2 'The Royal Canadian Armoured Corps' on 22 March 1948;3 'Royal Canadian Armoured Corps' on 17 February 1964;5 'Armoured Branch' on 27 August 1971;6 and 'Armour Branch' on 15 December 1980.8
CORPS CAMP FLAG
---
1. GO 250/40. Only units of the Permanent and Non Permanent Active Militia which were placed on active service for the war were part of the corps. The Active Militia units retained the status of separate corps / Seules les unités de la Milice active permanente et non permanente mises en service actif pour la guerre firent partie de ce corps. Les unités de la Milice active conservèrent leur statut de corps séparé.
2. GO 275/45.
3. CAO 72-1, Date of Issue 22 March 1948.
4. CAO 220-3, 7 février 1955.
5. CAO 220-3, AL 17 Feb 64.
6. CFAO 2-10, AL 35/71, 27 Aug 71.
7. CFAO 2-10, AL 2/72, 14 Jan 72 / OAFC 2-10, Mod 2/72, 14 jan 72.
8. CFAO 2-10, AL 25/80, 5 Dec 80 / OAFC 2-10, Mod 25/80, 5 déc 80.
9. CFAO 2-10, AL 14/85, 12 Jul 85 / OAFC 2-10, Mod 14/85, 12 juillet 85.
Footnotes notice: This content is provided as it appears in the originating document (see PDF link above) and cannot be altered. Some notes reference annotation in only one of the official languages, and therefore numbers may not match in the content you are viewing. For clarification, we invite you to check the corresponding footnote in the French page.