Volume 3, Part 2: Infantry Regiments
ROYAL CANADIAN INFANTRY CORPS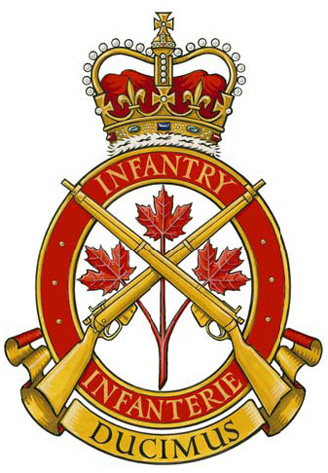 The following document is available for downloading or viewing:
For more information on accessing this file, please visit our help page.
---
BADGE
Description
Argent three maple leaves conjoined on one stem within an annulus Gules fimbriated and inscribed INFANTRY . INFANTERIE in letters Or, the whole ensigned by the Royal Crown proper set above a scroll Or inscribed with the Motto in letters Sable and surmounted by two rifles in saltire Or.
Symbolism
The three maple leaves conjoined on one stem, taken from the Royal Arms of Canada, represent service to Canada, and the Crown, service to the Sovereign. The crossed rifles denote infantry and have been used in badges of infantry units as well as of the officer cadet programme. Red and white are Canada's national colours. "INFANTRY" and "INFANTERIE" are a form of the bilingual branch title and "DUCIMUS" is the motto of the branch.
MOTTO
DUCIMUS (We lead)
MARCH
"The Canadian Infantryman"
LINEAGE
The Infantry Branch originated on 2 September 1942 when the 'Canadian Infantry Corps' of the Canadian Active Service Force was authorized to be formed.1 It was redesignated: 'Royal Canadian Infantry Corps' on 30 April 1947;2 'The Royal Canadian Infantry Corps' on 22 March 1948;3 'Royal Canadian Infantry Corps' on 17 February 1964;5 and 'Infantry Branch' on 27 August 1971.6
Notes:
Infantry battalions or regiments were established as early as 1856, often preceded by independent companies or sedentary units.
All Canadian Active Service Force infantry units were allocated to the Canadian Infantry Corps on 3 September or 25 November 1942 (GO 485/42).
CORPS CAMP FLAG
---
1. GO 466/42.
2. CAO 268-2, Supp Issue No. 21/47.
3. CAO 72-1, 22 Mar 48.
4. CAO 220-3, 7 fév 55.
5. CAO 220-3, 17 Feb 64.
6. CFAO 2-10, AL 35/71, 27 Aug 71.
7. CFAO 2-10, AL. 2/72, 14 Jan 72/OAFC 2-10, Mod 2/72, 14 jan 72.
8. CFAO 2-10, AL. 14/85, 12 Jul 85/OAFC 2-10, Mod 14/85, 12 jul 85.
Footnotes notice: This content is provided as it appears in the originating document and cannot be altered. Some notes reference annotation in only one of the official languages, and therefore numbers may not match in the content you are viewing. For clarification, we invite you to check the corresponding footnote in the French page.