Volume 3, Part 2: Infantry Regiments
THE YUKON REGIMENT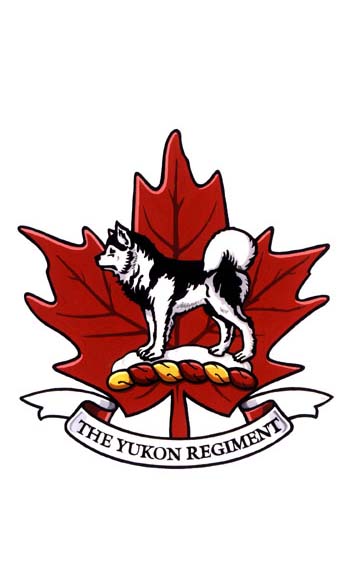 The following document is available for downloading or viewing:
For more information on accessing this file, please visit our help page.
---
BADGE
Description
On a maple leaf Gules the Crest of the Yukon Territory (On a wreath Or and Gules, a husky dog standing on a mount of snow proper) all above a scroll Argent inscribed THE YUKON REGIMENT in letters Sable.
Symbolism
The badge combines the red maple leaf of Canada, with a widely known official emblem of the Territory.
MOTTO
None
MARCH
"Regimental March of the Yukon Regiment"
BATTLE HONOURS
None
LINEAGE
This Reserve Force regiment originated in Whitehorse, Yukon on 19 March 1962, when 'The Yukon Regiment' was authorized to be formed.1 It was reduced to nil strength and transferred to the Supplementary Order of Battle on 15 June 1968.2
Perpetuations
None
Headquarters Location
Whitehorse, Yukon
OPERATIONAL HISTORY
None
REGIMENTAL COLOUR
No regimental Colour produced.
CAMP FLAG
No camp flag authorized.
---
1. CAO 110-3, Pt 'B', Supp Issue No. 721/62.
2. CFOO 68/23.
Footnotes notice: This content is provided as it appears in the originating document and cannot be altered. Some notes reference annotation in only one of the official languages, and therefore numbers may not match in the content you are viewing. For clarification, we invite you to check the corresponding footnote in the French page.