Volume 4: Operational Flying Squadrons
103 Search and Rescue Squadron
The following document is available for downloading or viewing:
For more information on accessing this file, please visit our help page.
---
BADGE
Description
A St. Bernard Dog's head erased carrying from a collar a keg.
Significance
The functions of this squadron are symbolized by a St. Bernard dog. This breed was first trained in the early 18th Century by the monks in the St. Bernard Hospice in the Alps, and has since been known for it's sagacity and devotion to its task in search and rescue operations.
MOTTO
SEEK AND SAVE
BATTLE HONOURS
None
LINEAGE
Authorized as '103 Rescue Unit' 2 May 1977,1 from '424 Search and Rescue Squadron Detachment Gander' (authorized 15 January 1977).2
Redesignated '103 Search and Rescue Squadron' 1 March 1997.4
Rebaptisé « 103e Escadron de recherche et de sauvetage » le 1er mars 1997.2
Note - No lineal connection with '103 Rescue Unit' of 1947-1968. See 413 Squadron.
SQUADRON STANDARD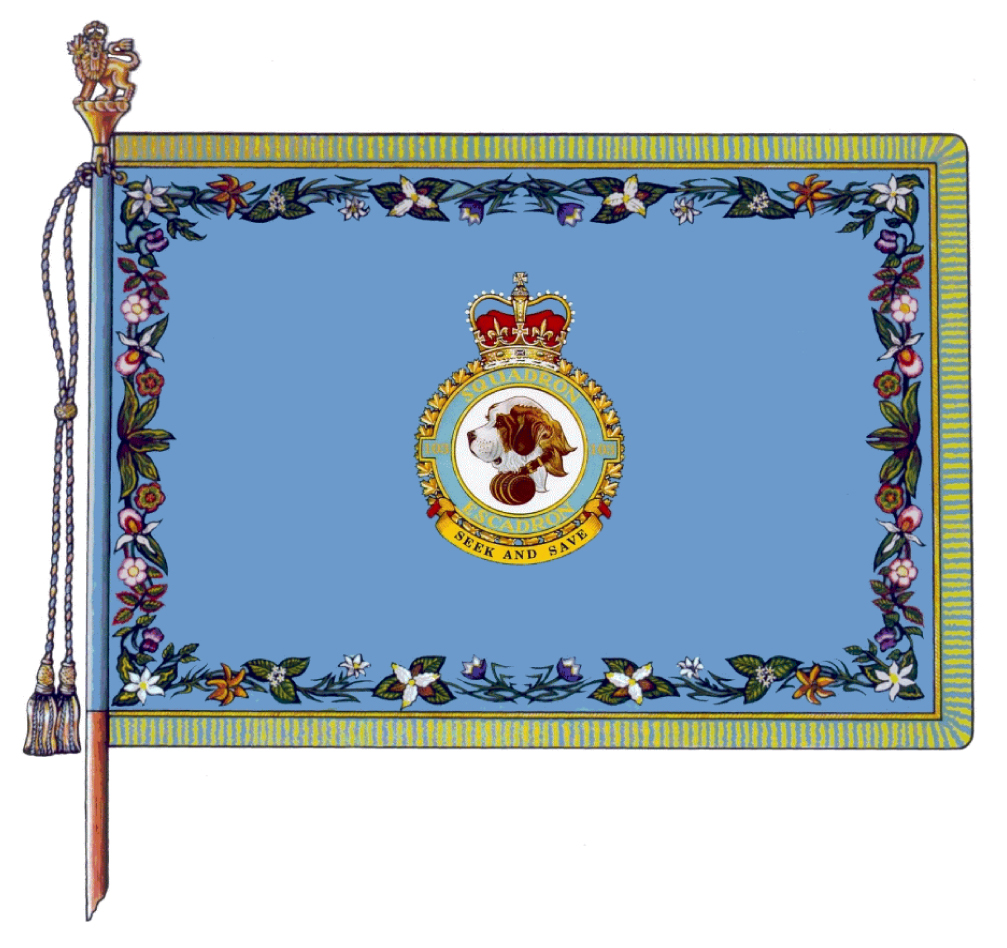 ---
1. NDHQ Message/Message du QGDN, DOE 229, 111700Z May/mai 77, file/dossier 1901-2525 TD 7110 (DOE), on AHR file/dans le dossier RHA 1326-2575
2. NDHQ Message/Message du QGDN, C Prog 52, 131430Z Jan/jan 77, file/dossier 1901-2021 (C Prog), on AHR file/dans le dossier RHA 1326-2575
3. CFOO/OOFC 2.18.1, 9 September/septembre 1977, file/dossier 1901-2575 (DMCO)
4. 103 Sqn AHR/RHA du 103e Esc, 2 March/mars 1998, file/dossier 1325-1 (CO), on AHR file/dans le dossier RHA 1326-2575. This was authorized by MOO/Cela fut autorisé par le DMO 97007, 20 February/février 1997
Footnotes notice: This content is provided as it appears in the originating document (see PDF link above) and cannot be altered. Some notes reference annotation in only one of the official languages, and therefore numbers may not match in the content you are viewing. For clarification, we invite you to check the corresponding footnote in the French page.