Volume 4: Operational Flying Squadrons
437 Transport Squadron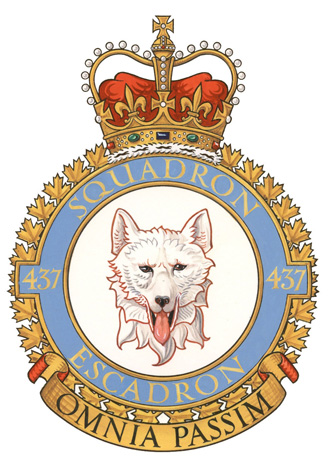 The following document is available for downloading or viewing:
For more information on accessing this file, please visit our help page.
---
BADGE
Description
Argent a husky's head affronté erased proper.
Significance
Nicknamed the "Husky Squadron", this unit adopted as its badge a husky's head indicative of its Second World War function of glider towing and the transportation of essential freight.
MOTTO
OMNIA PASSIM (Anything, anywhere)
BATTLE HONOURS
The Second World War
FRANCE AND GERMANY, 1944-1945; Arnhem; Rhine.
Honorary Distinction
The Gulf War honorary distinction emblazoned on the squadron Standard.
LINEAGE
Authorized as '437 (Transport) Squadron' 1 September 1944.1
Disbanded 15 June 1946.2
Reformed as '437 Transport Squadron' 1 October 1961.3
OPERATIONAL HISTORY
The Second World War
The squadron flew on towing and transportation operations in Great Britain, Norway, Belgium and Germany under 'Transport Command'.5
The Gulf War
The squadron significantly reinforced the Canadian tactical fighter force that fought in the United Nations' action against Iraq.6
SQUADRON STANDARD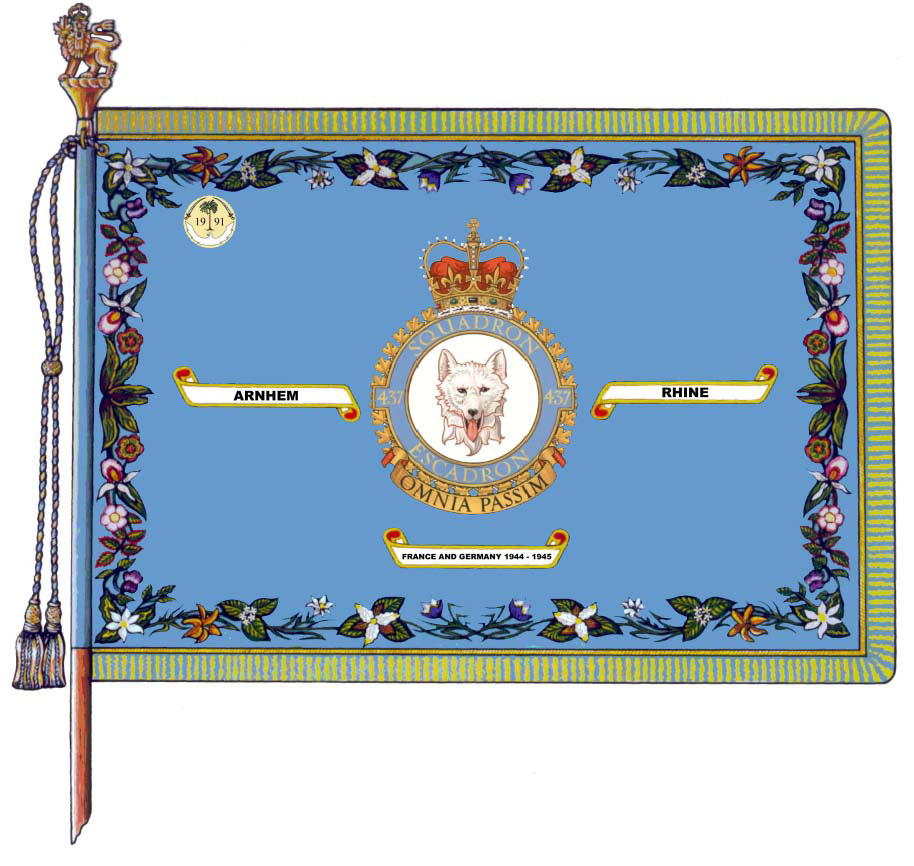 ---
1. AFRO 1296/45, Appendix "B"
2. Organization Order No 44, 14 May 1946, file/dossier S.2-3-437, Kardex 181.009 (D803)
3. Organization Order 8.9.8, 3 October 1961, file/dossier 895-9/437(DOE), on file CFOO 2.13.8/ dans le dossier OOFC 2.13.8
4. CFOO/OOFC 2/13/8, 9 September/septembre 1977, file/dossier 1901-2516 (DMCO)
5. Headquarters Transport Command, Location of Units in Transport Command, 15 November 1945, file/dossier S.2-100-57, Kardex 181.009 (D758); AFHS, "No.437 (Transport) Squadron", PRF/DRP R S7 437
6. CFSO/OSFC 5/94, 1994-05-06, file/dossier 1600-43-94
Footnotes notice: This content is provided as it appears in the originating document (see PDF link above) and cannot be altered. Some notes reference annotation in only one of the official languages, and therefore numbers may not match in the content you are viewing. For clarification, we invite you to check the corresponding footnote in the French page.