Volume 4: Operational Flying Squadrons
436 Transport Squadron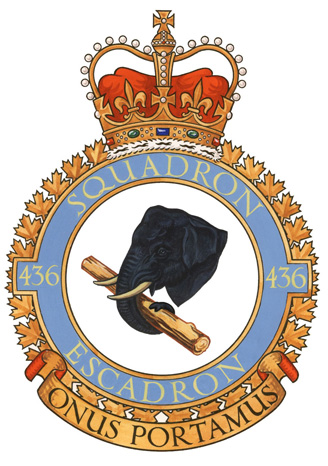 The following document is available for downloading or viewing:
For more information on accessing this file, please visit our help page.
---
BADGE
Description
Argent an elephant's head couped Sable tusks Or carrying a log of the last in its trunk.
Significance
The squadron operated as a transport unit from a base in India during the Second World War and adopted this badge and motto to symbolize its functions.
MOTTO
ONUS PORTAMUS (We carry the load)
BATTLE HONOURS
The Second World War
BURMA, 1945.
LINEAGE
Authorized as '436 (Transport) Squadron' 20 August 1944.1
Disbanded 22 June 1946.2
Reformed as '436 Transport Squadron' 1 April 1953.3
OPERATIONAL HISTORY
The Second World War
The squadron flew on medium range transport operations in Burma and India under 'South East Asia Command'.5
SQUADRON STANDARD
---
1. AFRO 1296/45, Appendix "B"
2. Organization Order No 45, 22 May 46, file/dossier S.2-3-436, Kardex 181.009 (D805)
3. Organization Order 15/53, 24 February 1953, file/dossier 895-9-436 (DOE), NAC/AN, RG/GE 24, Accn 83-84/216, box/ boîte 3024
4. CFOO/OOFC 2.13.5, 9 August/août 1977, file/;dossier 1901-2523 (DMCO)
5. Memorandum/Note de service, Organization - Nos 435 and 436 Squadrons, 6 February 1945, file/dossier S.2-3-435 (DDPII), Kardex 181.006 (D314); Information Memorandum No 83, 18 July 1944, file/dossier S.2-3-436, Kardex 181.009 (D805); Headquarters Transport Command, Location of Units in Transport Command, 15 November 1945, file/dossier S.2-100-57, Kardex 181.009 (D758); AFHS, "No.436 Squadron", PRF/DRP R S7 436
Footnotes notice: This content is provided as it appears in the originating document (see PDF link above) and cannot be altered. Some notes reference annotation in only one of the official languages, and therefore numbers may not match in the content you are viewing. For clarification, we invite you to check the corresponding footnote in the French page.