Volume 4: Operational Flying Squadrons
412 Transport Squadron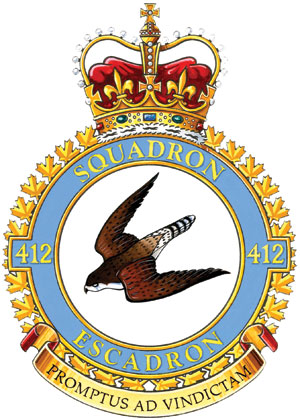 The following document is available for downloading or viewing:
For more information on accessing this file, please visit our help page.
---
BADGE
Description
Argent a falcon volant proper.
Significance
The falcon is indigenous to all parts of Canada. Known for its skill and aggressiveness in dealing with its enemies, it has been used for hunting from an early date in history.
MOTTO
PROMPTUS AD VINDICTAM (Swift to avenge)
BATTLE HONOURS
The Second World War
DEFENCE OF BRITAIN, 1941-1944; ENGLISH CHANNEL AND NORTH SEA, 1942-1943; FORTRESS EUROPE, 1941-1944; Dieppe; FRANCE AND GERMANY, 1944-1945; Normandy, 1944; Arnhem; Rhine.
LINEAGE
Authorized as '412 (Fighter) Squadron' 30 June 1941.1
Disbanded 15 March 1946.2
Reformed as '412 Composite Squadron' 1 April 1947,3 from '12 Communications Squadron' (authorized 30 August 1940).4
Redesignated '412 (Transport) Squadron' 1 April 1949.5
OPERATIONAL HISTORY
The Second World War
The squadron flew on fighter operations in Great Britain, France, Belgium and the Netherlands with 'Fighter Command' and '2nd Tactical Air Force'. It remained in Germany after the war with 'British Air Forces of Occupation (Germany)'.7
SQUADRON STANDARD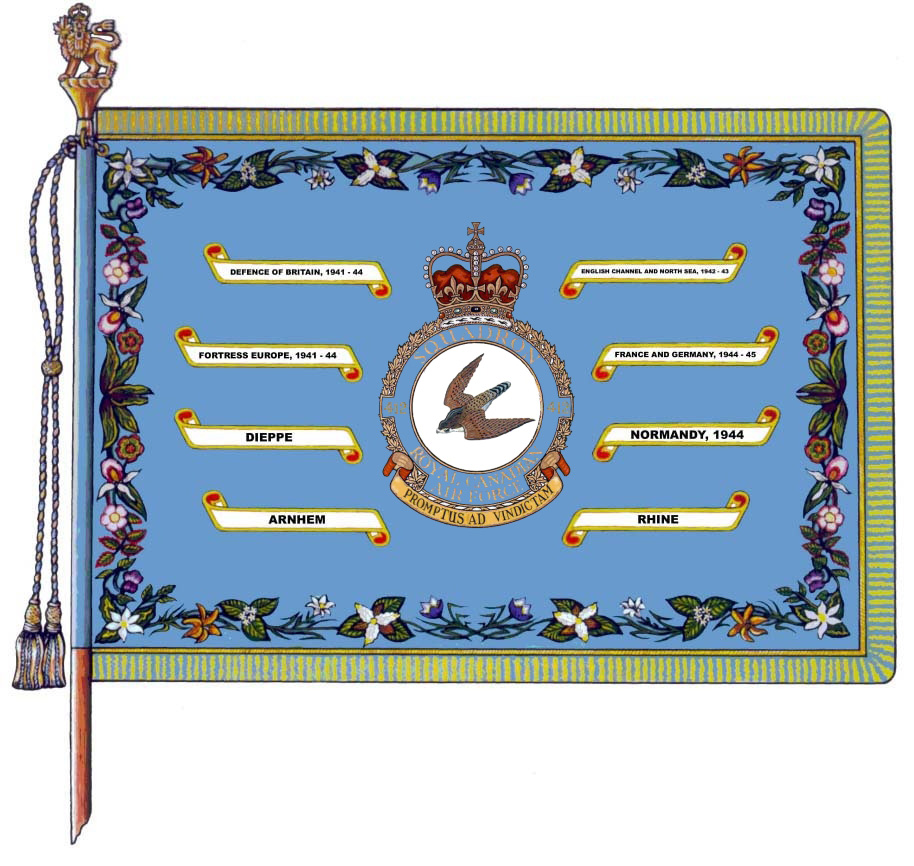 ---
1. AFRO 1296/45, Appendix "B"; Loose minute/Note d'accompagnement 9633/D of O, 9 June 1941, no file number/aucun numéro de dossier, Kardex 181.009 (D279)
2. Memorandum/Note de service, Disposal of No 126 Wing and Associated Units, 14 March 1946, file/dossier S.2-3-126 (DAS), Kardex 181.009 (D757)
3. Organization Order 841, 15 February 1947, file/dossier 192-10-9/412 (DOE), RCAF Diaries, microfilm 133
4. Organization Order No. 56, 30 August 1940, file/dossier 1018-1-6, Kardex 181.009 (D4054)
5. Organization Order 75/49, 13 May 1949, NAC/AN, RG/GE 24, Accn 83-84/216, box/boîte 3023, file/dossier 895-9/412 pt 1
6. CFOO/OOFC 2.4.4, 8 September/septembre 1977, file/dossier 1901-2526 (DMCO)
7. AFRO 1296/45, Appendix "B"; Order of Detail No 18, 30 June 1941, Kardex 181.009 (D810); Location of R.C.A.F. Squadrons, January 1944, Document Collection/collection de documents 72/360; AFHS, "No.412 Squadron", PRF/DRP RS7 412
Footnotes notice: This content is provided as it appears in the originating document (see PDF link above) and cannot be altered. Some notes reference annotation in only one of the official languages, and therefore numbers may not match in the content you are viewing. For clarification, we invite you to check the corresponding footnote in the French page.