Volume 4: Operational Flying Squadrons
407 Maritime Patrol Squadron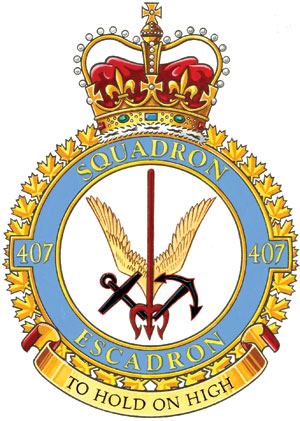 The following document is available for downloading or viewing:
For more information on accessing this file, please visit our help page.
---
BADGE
Description
Argent a winged trident Gules winged Or piercing in base the shank of an anchor Sable.
Significance
The badge represents the blows struck against enemy shipping by the "Demon Squadron".
MOTTO
TO HOLD ON HIGH
BATTLE HONOURS
The Second World War
ATLANTIC, 1943-1945; ENGLISH CHANNEL AND NORTH SEA, 1941-1945; FORTRESS EUROPE, 1942; German Ports, 1942; Normandy, 1944; BISCAY, 1942-1945.
LINEAGE
Authorized as 'No. 407 (General Reconnaissance) Squadron' 8 May 1941.1
Disbanded 4 June 1945.2
Reformed as '407 (Maritime Reconnaissance) Squadron' 1 July 1952.3
Redesignated '407 (Maritime Patrol) Squadron' 17 July 1956.4
OPERATIONAL HISTORY
The Second World War
The squadron flew against enemy shipping between Heligoland and the Bay of Biscay, after which it carried out anti-submarine operations under 'Coastal Command'.6
SQUADRON STANDARD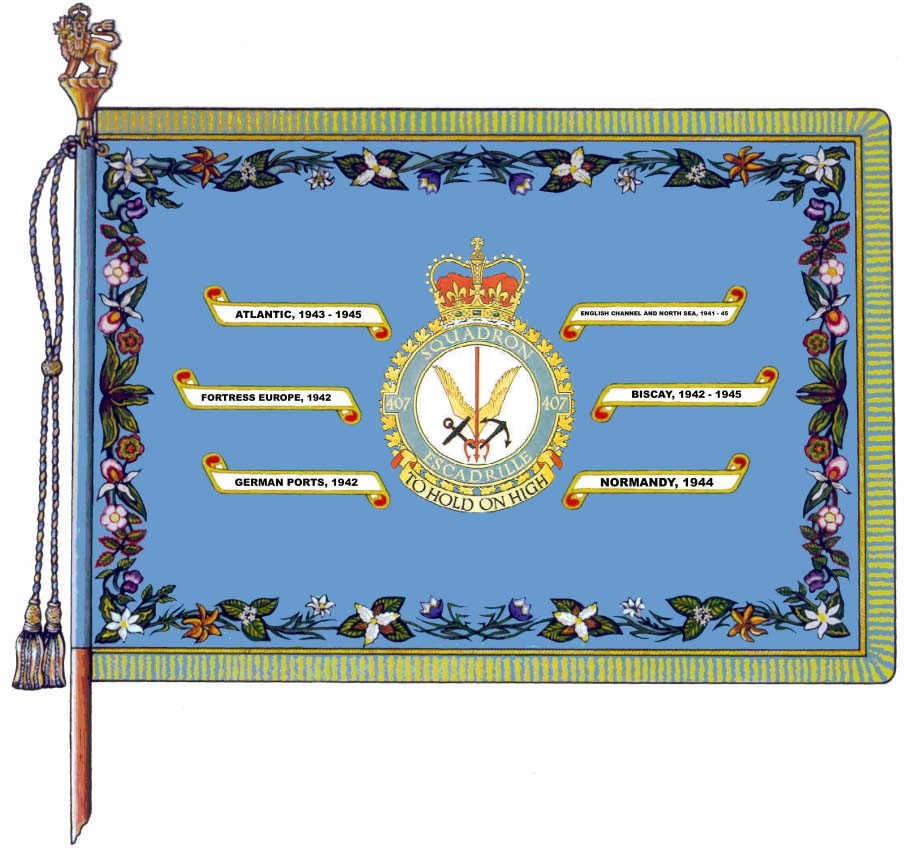 ---
1. AFRO 1296/45, Appendix "B"; Loose minute/Note d'accompagnement 9088/D of O, 1 May 1941, Kardex 181.006 (D286)
2. Information Memorandum No 124, 5 June 1945, file/dossier S.2-60-1 (DAS), Kardex 181.006 (D286)
3. Organization Order 43/52, 30 May 1952, NAC/AN, RG/GE 24, Accn 83-84/216, box/boîte 3022, file/dossier 895-9/407
4. Amendment List 2 to Organization Order 9.5, 17 July 1956, NAC/AN, RG/GE 24, Accn 83-84/216, box/boîte 2033, file/dossier 895-9/407
5. CFOO/OOFC 2.14.3, 9 September/septembre 1977, file/dossier 1901-2552 (DMCO)
6. Order of Detail No 8, 21 July 1941, Kardex 181.006 (D286); Location of RCAF Squadrons, Document Collection/collection de documents 72/360; 407 Squadron, Operations Record Book, 7 March 1943, file/dossier S.22-1-407 (DAS), RCAF Diaries, microfilm 127; AFHS, "No.407 (Demon) Squadron", PRF/DRP R S7 407
Footnotes notice: This content is provided as it appears in the originating document (see PDF link above) and cannot be altered. Some notes reference annotation in only one of the official languages, and therefore numbers may not match in the content you are viewing. For clarification, we invite you to check the corresponding footnote in the French page.