Volume 4: Operational Flying Squadrons
450 Tactical Helicopter Squadron
The following document is available for downloading or viewing:
For more information on accessing this file, please visit our help page.
---
BADGE
Description
Argent in front of a Viking axe and sword in saltire Gules a Viking helmet Or.
Significance
Since the Vikings are considered to be among the first people to venture forth into unknown and uncharted areas, the Viking motif bears suitable reference to the fact that the squadron was the first Canadian heavy transport helicopter squadron formed to venture into the comparatively new role of logistic air support using helicopters.
MOTTO
BY AIR TO BATTLE
BATTLE HONOURS
None
LINEAGE
Authorized as '450 Heavy Transport Helicopter Squadron' 29 March 1968,1 from '1 Army Helicopter Transport Platoon, Royal Canadian Army Service Corps' (authorized 10 December 1963).2
Redesignated '450 Transport Helicopter Squadron' 20 May 1970.3
Redesignated '450 Tactical Helicopter Squadron' 15 June 1993.5
Disbanded 1 January 1998.6
SQUADRON STANDARD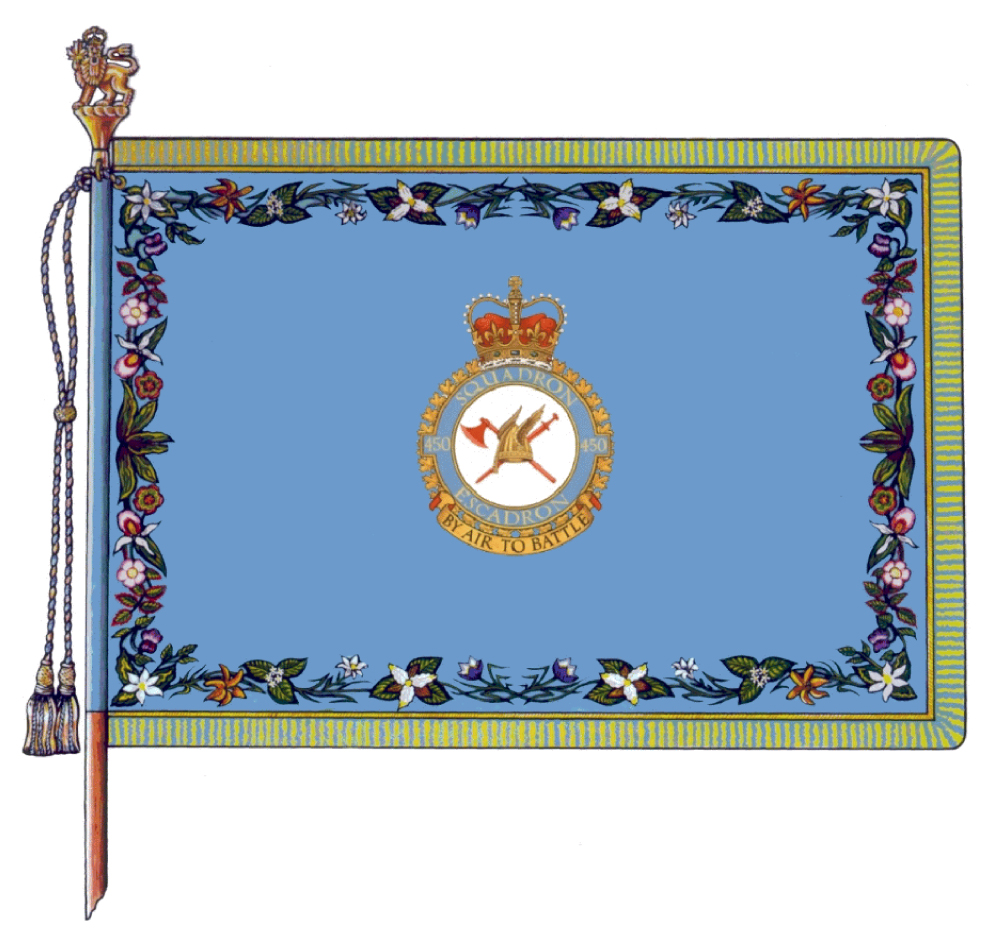 ---
1. CFOO/OOFC 3.154, 17 April/avril 1968, file/dossier 1901-0719/1 (DO)
2. SD 1 Letter/lettre No 63/38, 24 December 1963, AHR/RHA 1326-1873
3. CFOO/OOFC 3.154, 20 May/mai 1970, file/dossier F 1901-1 1873 (DO)
4. CFOO/OOFC 2.4.6, 27 June/juin 1978, file/dossier 1901-1873 (DMCO)
5. CFOO/OOFC 2.1.7.3, 15 June/juin 1993, file/dossier 1901-1873 (DGFD). Note: According to the squadron's Annual Historical Reports for the period 1991 to 1993 and documentation received from the squadron in March 1996, 450 Transport Helicopter Squadron was redesignated '450 Composite Helicopter Squadron' in January 1991. No official confirmation of this redesignation has been found. In addition, the 1993 documentation redesignating the squadron '450 Tactical Helicopter Squadron' does not supersede a CFOO from January 1991, but, rather, one from November 1986/Selon les rapports historiques annuels de l'escadron pour la période de 1991 à 1993, et la documentation reçue de l'escadron en mars 1996, le 450e Escadron d'hélicoptères de transport a été rebaptisé «450e Escadron composite d'hélicoptères» en janvier 1991. Aucune confirmation officielle de cette nouvelle appellation n'a été trouvé. De plus, la documentation de 1993 rebaptisant l'escadron «450e Escadron d'hélicoptères de tactique» ne remplace pas un OOFC de janvier 1991, mais plutôt un OOFC de novembre 1986.
6. NDHQ Message/Message du QGDN, DEPR 003, 161930Z Jan/jan 98, file/dossier 1901-7001 (DEPR 2-9)
Footnotes notice: This content is provided as it appears in the originating document (see PDF link above) and cannot be altered. Some notes reference annotation in only one of the official languages, and therefore numbers may not match in the content you are viewing. For clarification, we invite you to check the corresponding footnote in the French page.