Volume 4: Operational Flying Squadrons
428 All Weather (Fighter) Squadron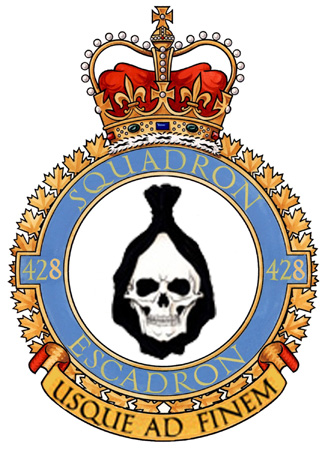 The following document is available for downloading or viewing:
For more information on accessing this file, please visit our help page.
---
BADGE
Description
Argent in a shroud Sable a death's head (or skull) Argent.
Significance
The badge refers to the squadron "Ghost," a nickname earned through many hours of night bombing operations, and also the death and destruction which it carried to the enemy.
MOTTO
USQUE AD FINEM (To the very end)
BATTLE HONOURS
The Second World War
ENGLISH CHANNEL AND NORTH SEA, 1943-1944; BALTIC, 1944; FORTRESS EUROPE, 1943-1944; FRANCE AND GERMANY, 1944-1945; Biscay Ports, 1943-1944; Ruhr, 1943-1945; Berlin, 1943-1944; German Ports, 1943-1945; Normandy, 1944; Rhine; BISCAY, 1943-1944.
LINEAGE
Authorized as '428 (Bomber) Squadron' 15 October 1942.1
Disbanded 5 September 1945.2
Reformed as '428 All Weather (Fighter) Squadron' 21 June 1954.3
Disbanded 31 May 1961.4
OPERATIONAL HISTORY
The Second World War
The squadron flew on bombing and mine-laying operations in Great Britain under 'Bomber Command'.5
---
1. AFRO 1296/45, Appendix "B"; Loose minute/Note d'accompagnement 2698/D of O, 10 October 1942, Kardex 181.009 (D612)
2. AFRO 1465.45; Organization Order No 291, 24 August 1945, file/dossier S.17-428-1 (DOE), Kardex 181.009 (D5437)
3. Organization Order 16/54, 18 March 1954, file/dossier 895-9/428 (DOE), NAC/AN, RG/GE 24, Accn 83-84/216, box/boîte 3024
4. Organization Order 2.7.1, 24 May 1961, file/dossier 895-9/428 (DOE), NAC/AN, RG/GE 24, Accn 83-84/216, box/boîte 3024
5. Location of RCAF Squadrons, January 1944, Document Collection/collection de documents 72/360; Order of Detail No 36, 11 November 1942, no file number/aucun numéro de dossier, Kardex 181.006 (D307); AFHS, "No.428 (Ghost) Squadron", PRF/DRP R S7 428
Footnotes notice: This content is provided as it appears in the originating document (see PDF link above) and cannot be altered. Some notes reference annotation in only one of the official languages, and therefore numbers may not match in the content you are viewing. For clarification, we invite you to check the corresponding footnote in the French page.