Lieutenant Colonel W. Scott Attridge, CD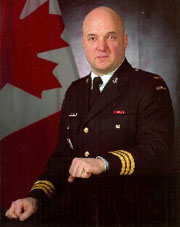 Supervisor of Music
Canadian Forces Music Branch
Appointed September 2006
Lieutenant Colonel W. Scott Attridge was born in Waterloo, Ontario where he began musical studies at an early age. He went on to earn a Bachelor of Music in Performance degree from Wilfrid Laurier University in 1981. After graduation, he entered the Canadian Forces as a musician at the rank of Private. Upon completion of basic training, his first posting was to the Vimy Band in Kingston, followed by the Canadian Forces School of Music at Canadian Forces Base Borden and subsequently to the Royal Canadian Regiment Band at CFB Gagetown. During this time, he was regularly featured as a xylophone soloist and also drum set soloist in performances throughout North America and Europe. He also wrote various musical arrangements and directed many different large musical ensembles, dance bands and combos.
In 1993, after promotion to Master Warrant Officer, he was offered his commission and was promoted to Captain. His next appointment was Director of Music of the Band of the Ceremonial Guard in Ottawa where duties included the famous Changing the Guard ceremony on Parliament Hill. Subsequent tours included Deputy Commanding Officer of the Central Band of the Canadian Forces in Ottawa and Commanding Officer of the Air Command Band in Winnipeg.
In 2003, after promotion to Major, he became the Staff Officer Bands at the Directorate of History and Heritage in Ottawa. In 2005, he was selected to be the Director of Music of the Band of the Canadian Forces Contingent for the 60th Anniversary pilgrimage to the Netherlands and in 2007 given the same responsibilities at the 90th Anniversary of Vimy Ridge. He began his duties as the Supervisor of Music for the CF Music Branch in September 2006 and was promoted to his present rank in January 2007.