Memorials Details Search Results
(Use your browser to return to the previous page)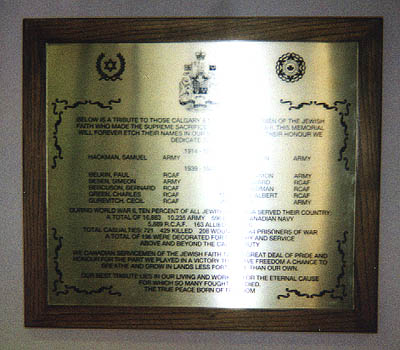 Memorial Number: 48007-001
Type: brass plaque
Location: Museum of the Regiments
Address: 4520 Crowchild Trail South West
Reference: inside wall of the building
Calgary, AB
Surveyor: Deirdre Kraft
Photo Credit: Deirdre Kraft
Erected by local Jewish servicemen, this memorial is dedicated to the memory of local Jewish war dead of the First and Second World Wars.
---
[plaque/plaque]

BELOW IS A TRIBUTE TO THOSE CALGARY AND DISTRICT SERVICEMEN OF THE JEWISH FAITH WHO MADE THE SUPREME SACRIFICE IN WWI AND WWII. THIS MONUMENT WILL FOREVER ETCH THEIR NAMES IN OUR MEMORIES. IT IS IN THEIR HONOR THAT WE DEDICATE THIS PLAQUE.

DURING WWII, 10% OF ALL JEWRY IN CANADA SERVED THEIR COUNTRY! A TOTAL OF 16,883, 10,235 ARMY, 596 RC NAVY, 5,889 RCAF, 163 ALLIED FORCES
TOTAL CASUALTIES: 721, 429 KILLED, 208 WOUNDED, 84 POW.

A TOTAL OF 196 WERE DECORATED FOR BRAVERY AND SERVICE ABOVE AND BEYOND THE CALL OF DUTY.

WE CANADIAN SERVICEMENT OF THE JEWISH FAITH TAKE A GREAT DEAL OF PRIDE AND HONOR FOR THE PART WE PLAYED IN A VICTORY THAT GAVE FREEDOM A CHANCE TO BREATHE AND GROW IN LANDS LESS FORTUNATE THAN OUR OWN.

OUR BEST TRIBUTE LIES IN OUR LIVING AND WORKING FOR THE ETERNAL CAUSE FOR WHICH SO MANY FOUGHT AND DIED.
THE TRUE PEACE BORN OF FREEDOM.