Memorials Details Search Results
(Use your browser to return to the previous page)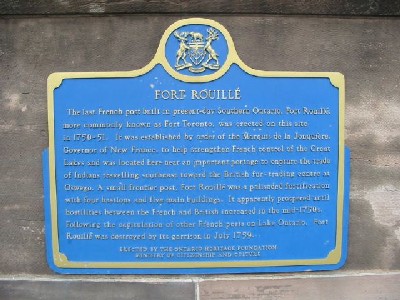 Memorial Number: 35090-024
Type: Provincial Military Plaque
Location: At the Fort Rouillé monument near Scadding Cabin at Exhibition Place.
Address: Lakeshore Boulevard East
Toronto, ON Photo Credit: (www.ontarioplaques.com)
This plaque was erected in 1957.
---
FORT ROUILLÉ
The last French post built in present-day southern Ontario, Fort Rouillé,
more commonly known as Fort Toronto, was erected on this site
in 1750-51. It was established by order of the Marquis de La Jonquière,
Governor of New France, to help strengthen French control of the Great
Lakes and was located here near an important portage to capture the trade
of Indians travelling southeast toward the British fur- trading centre at
Oswego. A small frontier post, Fort Rouillé was a palisaded fortification
with four bastions and five main buildings. It apparently prospered until
hostilities between the French and British increased in the mid-1750s.
Following the capitulation of other French posts on Lake Ontario, Fort
Rouillé was destroyed by its garrison in July 1759.

ERECTED BY THE ONTARIO HERITAGE FOUNDATION
MINISTRY OF CITIZENSHIP AND CULTURE

LE FORT ROUILLÉ
Le Fort Rouillé, plus connu sous le nom de Fort Toronto, fut le dernier poste français construit dans l'actuel Sud de l'Ontario. Il fut établi en 1750-1751, sous l'ordre du Marquis de La Jonquière, gouverneur de la Nouvelle-France, pour renforcer l'emprise française sur la région des Grands Lacs. Il était situé près d'un important portage, pour intercepter le commerce des Indiens avec le comptoir britannique d'échange des fourrures situé à Oswego. Ce petit poste-frontière comprenait cinq bâtiments principaux entourés d'une palissade fortifiée à quatre bastions. Il fut apparemment prospère jusqu'à l'intensification des hostilités entre Français et Britanniques au milieu des années 1750. Après la capitulation des autres postes français sur le lac Ontario, le Fort Rouillé fut détruit en juillet 1759 par la garnison qui y stationnait.