Memorials Details Search Results
(Use your browser to return to the previous page)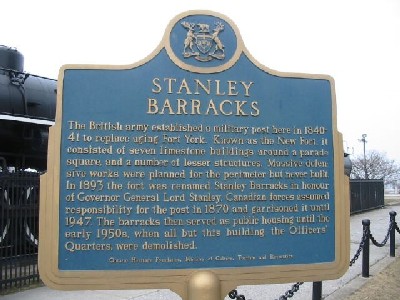 Memorial Number: 35090-023
Type: Provincial Military Plaque
Location: On the grounds of the museum, Exhibition Place.
Address: Lakeshore Boulevard West
Toronto, ON Photo Credit: (www.ontarioplaques.com)
This plaque was erected in 1963. The title of the Plaque is Stanley Barracks.
---
STANLEY
BARRACKS

The British army established a military post here in 1840-
41 to replace aging Fort York. Known as the New Fort, it
consisted of seven limestone buildings around a parade square, and a number of lesser structures. Massive defen-
sive works were planned for the perimeter but never built.
In 1893 the fort was renamed Stanley Barracks in honour
of Governor Lord Stanley. Canadian forces assumed
responsibility for the post in 1870 and garrisoned it until
1947. The barracks then served as public housing until the
early 1950s, when all but this building, the Officers'
Quarters, were demolished.

Ontario Heritage Foundation, Ministry of Cutlure, Tourism and Recreation

L'armée britannique établit un poste militaire ici en 1840-1841 pour remplacer le fort York. Le poste comporte sept bâtiments en Pierre à chaux érigés autour d'une cour de parade et plusieurs autres structures. Les fortifications prévues ne sont jamais construites. En 1893, le fort est rebaptisé Stanley Barracks en honneur du gouvernement general Lord Stanley. Les forces canadiennes en assument la responsibilité en 1870 et y restent publics avant sa demolition au début des années 1950. Il n'en reste plus que les quartiers des officiers.