Memorials Details Search Results
(Use your browser to return to the previous page)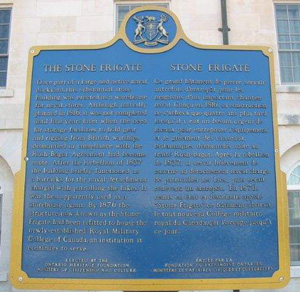 Memorial Number: 35036-010
Type: Building and Plaque
Location: Royal Military College. GPS N 44 13.770 W 76 28.008
Address: Highway 2
Reference: The plaque is in front of the building, on the grounds.
Kingston, ON
Surveyor: Alfred Zangao
Photo Credit: (www.ontarioplaques.com)
This plaque was erected in 1957.
---
THE STONE FRIGATE

Once part of a large and active naval dockyard, this substantial stone building was erected as a warehouse for naval stores. Although initially planned in 1816, it was not completed until four years later when the need for storage facilities to hold gear and rigging from British warships dismantled in compliance with the Rush-Bagot Agreement had become acute. After the Rebellion of 1837 the building briefly functioned as a barracks for the naval detachment charged with patrolling the lakes. It was then apparently used as a storehouse again. By 1876 the structure, now known as the Stone Frigate, had been refitted to house the newly-established Royal Military College of Canada, an institution it continues to serve.

STONE FRIGATE

Ce grand bâtiment de pierre servait autrefois d'entrepôt pour les magasins d'un important chantier naval. Conçu en 1816, sa construction ne s'acheva que quatre ans plus tard lorsqu'il y eut un besoin urgent de locaux pour entreposer l'équipement et le gréement des vaisseaux britanniques démantelés suite au traité Rush-Bagot. Après la rébellion de 1837, il servit brièvement de caserne au détachement naval chargé de patrouiller les lacs, puis serait redevenu un entrepôt. En 1876, remis en état et désormais appelé "Stone Frigate", ce bâtiment abritait le tout nouveau Collège militaire royal du Canada, qui l'occupe jusqu'à ce jour.