Memorials Details Search Results
(Use your browser to return to the previous page)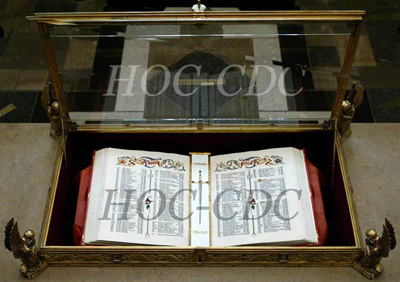 Memorial Number: 35059-058
Type: Books of remembrance and display case
Location: Parliament Building
Address: 111 Wellington St, K1A 0A9
Reference: In the Memorial Chamber of the Peace Tower.
Ottawa, ON
Surveyor: Victoria Edwards
Photo Credit: House of Commons Heritage Collection/La Chambre des Communes Collection Patrimoniale.
The Seven Books of Remembrance and display case in the Memorial Chamber of the Peace Tower on Parliament Hill, honour the soldiers who sacrificed all for others in Wars and Conflicts. Four kneeling angels and a ribbon encircling a laurel branch ornate the display case made of bronze, enamel and other metals. The case was designed by John A. Pearson and made by Bromsgrove Guild Limited (Great Britain) and Robert Mitchell Company in 1928.
---
[Display case/Boîte d`exposition]

TAKE UNTO YOU THE WHOLE ARMOUR OF GOD THAT YE MAY BE ABLE TO WITHSTAND IN THE EVIL DAY AND HAVING DONE ALL TO STAND. (Ephesians 6:13)