Memorials Details Search Results
(Use your browser to return to the previous page)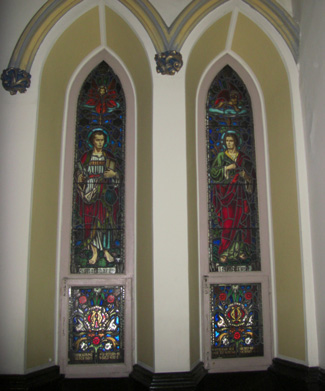 Memorial Number: 35059-078
Type: A pair of stained glass windows
Location: St. Patrick's Basilica
Address: 281 Nepean Street K1R 5G2
Reference: Corner of Kent and Nepean Streets
Ottawa, ON
Surveyor: Richard Turcotte
Photo Credit: Richard Turcotte
This memorial, a pair of stained glass windows, was erected by the Holy Name Society and Tabernacle Society and is dedicated to the Parish members who returned from WWII and those who made the supreme sacrifice.
---
[left stained glass window/vitrail de gauche]

S. MATTHACUS

IN THANKSGIVING FOR THE RETURN OF
OUR SOLDIER BOYS WORLD WAR II

[right stained glass window/vitrail de droite]

S. MARRUS

IN MEMORIAM OF OUR SOLDIER BOYS WHO
MADE THE SUPREME SACRIFICE WORLD
WAR II. DONATED BY THE TABERNACLE SOCIETY.