Details/Information for Canadian Forces (CF) Operation ARCHER
CF Overseas Operations have most often operated within the construct of an international mandate. As such, the International Information is presented first in order to provide the context of the Canadian Operation (displayed second). Eventually, all rotations associated with the particular Canadian operation will also be displayed.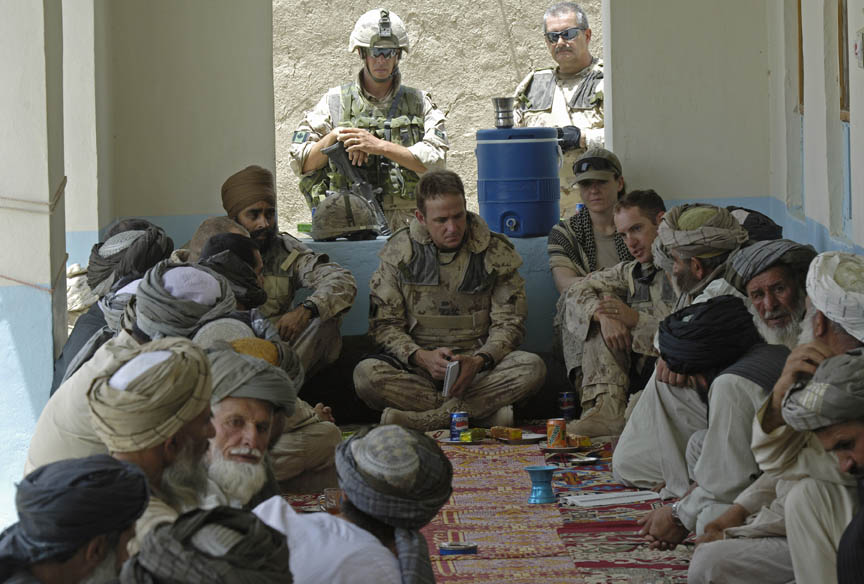 Photo: MCpl Robert Bottrill, Canadian Forces Combat Camera 3
Panjawai, Afghanistan
Canadian Forces personnel including Lieutenant Colonel
Simon Hetherington (center), Commander of the Provincial
Reconstruction Team (PRT) Kandahar, and a representative
from the US Agency for International Development, (USAID),
attend a shura being held in Panjawai west of Kandahar.
Soldiers from B Company, 2 Princess Patricia's Canadian
Light Infantry, 1 RCHA, and Field Engineers travelled
to Panjawai to provide security as Canadian Forces
members from Kandahar Airfield and the Provincial
Reconstruction Team (PRT) Kandahar, attended the shura.
International Information
International Operation Name: Operation ENDURING FREEDOM
International Mission Name: Operation ENDURING FREEDOM (OEF)
Mandating Organization: North Atlantic Council
Region Name: Asia
Location: Afghanistan
Mission Date: 7 October 2001 - Present
Mission Mandate: To contribute to the elimination of the threat of terrorism.
By contributing to the Canadian Joint Task Force South West Asia to the Commander in Chief, Central Command in support of the US led Campaign Against Terrorism, in order to protect Canada and its allies from terrorist attacks and prevent future attacks.
Mission/Operation Notes:
In December 2001, a number of prominent Afghans met in Bonn, Germany under the auspices of the United Nations. On 5 December they signed the Agreement on Provisional Arrangements in Afghanistan Pending the Re-establishment of Permanent Government Institutions, known as the Bonn Agreement, witnessed by the Special Representative of the secretary-General for Afghanistan. The UN Security Council approved of the agreement on 20 December under Resolution 1386, further confirming the mandate under Resolutions 1413 and 1444. Under the Military Technical Agreement signed on 4 January 2002, the International Security Assistance Force (ISAF) undertook to provide security to promote the democratic process in Afghanistan. ISAF was initially led by individual NATO nations, including complete responsibility for command, control and organisation. Although individual NATO nations still take the lead, in rotation, certain planning aspects have been the responsibility of NATO Headquarters as a whole since August 2003.
In December 2003 the North Atlantic Council approved the expansion of ISAF's role outside Kabul to include the operation of Provincial Reconstruction Teams (PRT) in other regions. UN Security Council Resolution 1510 of 13 October provided the basis for this expansion, which is aimed at rebuilding the infrastructure in these towns to allow people to return to something like a normal life while reducing their dependence on external relief. On 10 February 2005, NATO Defence Ministers agreed to expand ISAF to 9,000 troops and provide security to over 50 percent of Afghanistan.
In support of the Military Technical Agreement, ISAF undertook to train the new Afghan National Army (ANA), with a planning figure of 70,000 for the strength of the ANA. France would train officers, Britain the non-commissioned officers, and Bulgaria, Romania, and the United States together would train new privates. The Canadian Forces were asked to provide training at the battalion level - in other words, to take those trained by others and turn them into coherent, functioning units which, because of the pace of events in Afghanistan, were expected to take up an operational role as soon as possible.
---
Canadian Forces (CF) Information (ARCHER)
Name: ARCHER
Date: 7 October 2004 - Present
Canadian Task Force Name Mission Statement:
To train the new Afghan National Army. Later the mandate was broadened to include reconstruction efforts of the Kandahar region of Afghanistan.
Canada's initial involvement in training the Afghan National Army began in Autumn 2003 (under Op ATHENA) but it took place on an ad hoc basis. Plans to formalise this involvement were developed in late July 2004 under the name Operation ARCHER, which came into effect on 7 October 2004. Its first phase comprised four staff officers at Combined Forces Command Afghanistan Headquarters in Kabul, two staff officers at Combined Joint Task Force 76 Headquarters in Bagram and fourteen personnel training the Afghan National Army. Subsequently, on 17 May 2005 the Canadian announced that it would send up to 1250 troops to the Kandahar region as part of the regional Provincial Reconstruction Team there that would also include members of the Canadian International Development Agency (CIDA), the Department of Foreign Affairs and the Royal Canadian Mounted Police. It was clear, now, that ARCHER would be a more aggressive mission than originally conceived, and that it would take place in an area where Taliban and Al Qaeda operated and bandits and drug lords were still very active and threatening. This second phase of Operation ARCHER began in late July 2005 when a 220-person Theatre Activation Team departed for Kandahar. Their role was to organize the camp for the incoming troops. The 750 soldiers for the initial deployment would be 250 soldiers from CFB Edmonton as part of the Provincial Reconstruction Team. A further 700 from CFB Petawawa would deploy first to Kabul in early August under Op Athena but would move from Camp Julien to Kandahar at the end of that operation. The PRT deployed in August while the troops from Kabul moved to Kandahar in October after having provided security assistance during the Afghan national elections. The support element in the Arabian Gulf that had supported Op Athena would now transition to supporting Op ARCHER. Joint Task Force 2 would also be deployed.
The forces deployed under Op ARCHER represented a broad spectrum of capabilities. The PRT included an infantry company, an engineer squadron, a combat support company, and health and medical support. The 700 troops from Petawawa included an armoured reconnaissance squadron with infantry support, an engineer squadron, an infantry company for security, a health support services unit, a national support element and a national control element.
The initial task of the PRT would be to forge ties with local officials and determine what activities needed to be conducted and what the priority would be for each. About 20 soldiers would continue with the training of the Afghan National Army.
A further group of 1250 troops arrived in February 2006 - a 250-strong brigade headquarters and a 1000-strong task force. Canada would also assume command of the international operation in the area at that time. As a result, there would be about 1900 soldiers in Kandahar, about 85 in Kabul working with various organizations, and about 250 at the support base in the Arabian Gulf.
On 31 July 2006, NATO took command of operations in six southern Provinces of Afghanistan, including the area in which the Canadians were operating. The Canadians of Op Archer now came under ISAF, and when the next rotation of Canadian troops took place, the operation name was returned to Operation ATHENA, although the rotation numbers carried on from Op ARCHER and not from the previous Op ATHENA rotation sequence. Op ARCHER continued but was now comprised only the staff officers at the Combined Security Transition Command - Afghanistan (CSTC-A) in Kabul and a few liaison officers at Bagram Airfield supporting Operation ENDURING FREEDOM (OEF). Perhaps the most important contribution were the CF instructors training the Afghan National Army (ANA) at the Canadian Afghan National Training Centre Detachment (CANTC Det) in Kabul. The Canadian contribution to Op ARCHER consisted of about 30 CF personnel as of September 2007.