A Blue Water Navy: The Official Operational History of the Royal Canadian Navy in the Second World War, 1939-1945 Volume II Part 2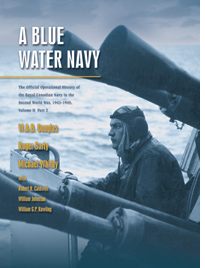 by W.A.B Douglas, Roger Sarty, Michael Whitby with Robert H. Caldwell, William Johnston and William G.P. Rawling.
Official Launch: Tuesday 1 May at 1030 hours, Main Floor Concourse, National Defence Headquarters (NDHQ), Major General George R. Pearkes Building, 101 Colonel By Drive, Ottawa. By invitation only.
ISBN: 1-55125-069-1
Publisher: Vanwell Publishing Limited
To Order: Vanwell Publishing Limited; Toll free: 1-800-661-6136; Fax: (905) 937-1760; E-mail: sales@vanwell.com